第231回例会
2017年4月6日(木)19:00~21:00@富士見区民館
千代田トーストマスターズクラブ第231回
We will have a meeting at Idabashi Kuminkan tonight.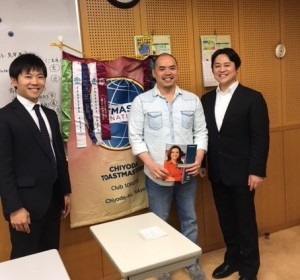 Here we can enjoy the wonderful view of cherry blossoms in front of this building.
The 231st meeting is about to be held with 5 guests and new company.
As a president of our club, FT san bangs a gavel, meeting began.
He said "Everyone, welcome to Fujimi-kaikan, which we barely
uses for the meeting. All of you can think it's worth coming
over here all the way down to here.
Let's make the best of each and every opportunity. "
Scenery of initiation ceremony for our new member "Mr. R" Fresh company(right in the photo) joined just like fresh recruits do in a new season.
FN san is in charge of Toastmaster of the evening. He entitled Word of the evening as "Full bloom" 『満開』because cherry blossoms have been in full bloom in spring.
OT san introduced us one of her favorite books named "生きること それが僕の仕事" in a session called "The book of the evening". She was inspired by her former teacher who wrote this book.
NK san handled Table Topics Master despite being thrown the role right after the session started while FK san asked about cherry-blossom viewing in his usual inimitable manner.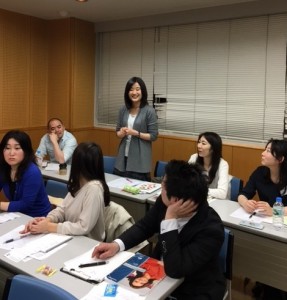 The meeting ran well and to time with fabulous prepared speeches by 4 people.
TM S san, from Nihonbashi century presented her competition speech for division contest. Great evaluations were given by 4 experts.
Congratulations to TT san for achieving her competency communication manual.
We are proud of you to make it!
F.O san then evaluated the 4 evaluators and summarized entire meeting.