第193回例会
It's a bit rainy outside but it doesn't stop our members from coming to enjoy another exiting
meeting of TMC Chiyoda.
Mr.MT introduced some interesting rules the night.
On top of the "Word of the Evening", he added "Anyway" as the no-no word of the evening.
He made a great point that whenever we were using this word, we were actually denying the
meaning of all the effort or discussions we made before.
I fully agree with you MT-san, it's an attitude problem!
We had one book recommended by Mr.TM, which introduced the Japan history from brand
new angle and with beautiful picture attached.
I really feel that I should give it a read as I am a Gaijin who want to live in Japan forever.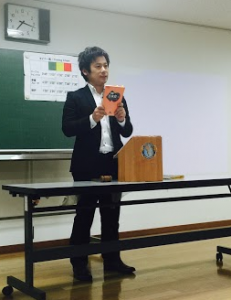 First speech was Mr.TH's "I Message". It told us how we could change our point of view
and express ourselves in a more acceptable way.
Ms.KM's "Know Yourself" let us understand how important meat is for our health after
she shared with us her terrible experience when she didn't have meat for months in order
to lose weight, but instead got sick.
Mr.IE's stories told us again how important it is to express ourselves and let others
know what we want.
We should all learn from him as he got a two-month free home-stay after asking two ladies
during his collage life in US.
Yes, I did write that, TWO LADIES!!! But don't get too excited as it's just as simple as
a home-stay as claimed by Mr.IE.
Final speech was given by Mr.FM, you can tell how professional he was by his classy suit
and big smile.
Again he talked about communication skills, but this time, he drew our attention on the
importance of not speaking but listening.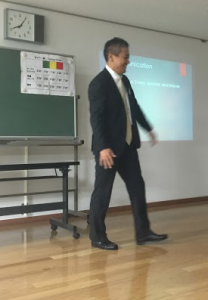 Another interesting thing to mention is that our latter 3 speakers seemed to get too excited
about their topics and forgot about their time limit.
As they ran out of their time they were also out of the competition to become the best speaker.
But look at the picture, what's our president doing? Hey wake up KM-San!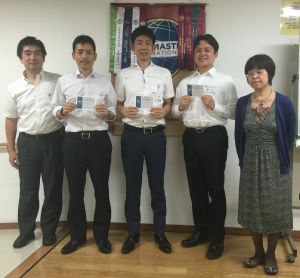 Last but not least, we have welcomed a milestone member in TMC Chiyoda, the first ever
native English speaker Mr.J.
Our first foot print out of Asia lol. Well done TMC Chiyoda!!!