第189回例会
When I talk about our meetings with other TM club members, they are always amazed by how actively we participate in club activities and how effectively we attract new members. Only to proof it true, the 189th meeting recorded 7 visitors, 2 guests and 24 regular members' participation, and as always, the meeting was full of great speeches and inspiring comments.
FM-san was our TMOE this time. I arrived 20 minutes earlier than normal but FM-san was already there, writing on the board. No need to say the meeting was run smoothly due to his good preparation.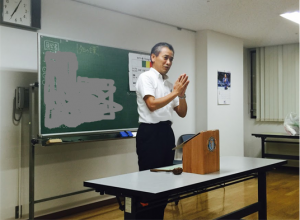 KN-san brought us the table topics. "Where would you go?" "Who would you meet?" "What would you do?" were the three questions she threw to the audience. Sounds familiar? Maybe KN-san didn't realize that she was asking questions like a philosopher.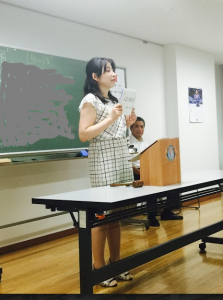 It's not easy to have three new joiners at one meeting. As per FM-san, this is the first time in the past 1.5 years. Banzai Chiyoda TMC!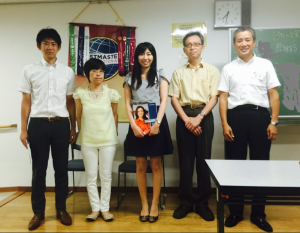 The Prepared-Speech session started with IT-san's "How to hold an event". Amazingly he has held an event which attracted 300 participants. "Website, Videos, After-Party" were the three points he focused on and it worked well. Obviously everyone was impressed by his speech since he not only talked about his own event but also linked it with how Chiyoda TMC meeting was managed.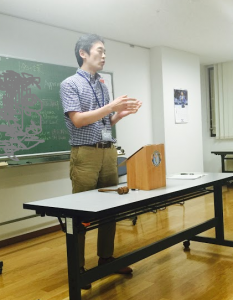 The second comes KR-san's "A bizarre law of the world". He shared with us his bad night to show how "Anything that can go wrong, will go wrong." works, and suggested two solutions to prevent things from going too wrong. "Think positively" and "Donate money". I was so absorbed into his speech that I even forgot to take a picture of him.
IS-san was the third to give a prepared speech. She gave explicate numbers to show how universities were forced to compete for students who are decreasing in number. Thinking long term and taking care of students from early stages were the suggestion she gave to universities.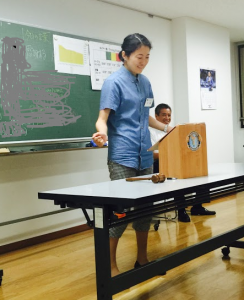 Last prepared speech was ST-san's "The Umbrella Man". As you can see from the picture above, ST-san was well prepared. With various tools and body movements, he has really turned his speech into a show. There were three characters in the story and ST-san switched role among the three to "Play" us a good speech.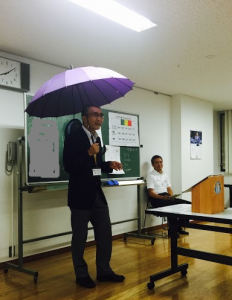 Comments were given by four veteran members, TM, IE, NT and NK-san. There were quite a few times when I saw the audience nodding their head as if they were saying "can't agree more". Many members said this before but again, "I hope I can do such good comments one day!"
We had two equally good prepared speeches this evening.